---
Your Journey of Self-Discovery Begins Now!
---
Revolutionary Self-Study Course in
---
---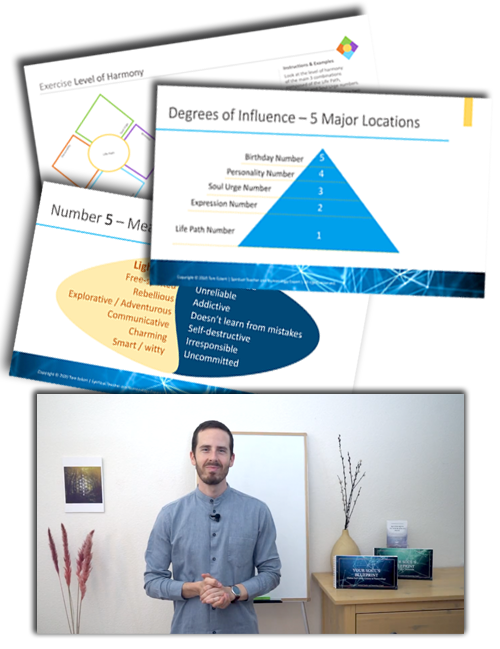 ---
As a spiritual teacher and numerology expert I had the privilege to work with hundreds of people over the last 10 years and guide them on their path of finding meaning, clarity and fulfillment in their life.
Numerology cuts right through all the layers and masks a person has. It leaves no doubt as to who a person is, what their journey is about, and how they're meant to manifest themselves.
After working for many years as a professional numerologist, I realized that like me – many others can use numerology to get answers to fundamental questions quickly and directly.
But unfortunately to get good information is hard, and you are still mostly overloaded with fragmented information. That's why I decided to create this course.
By taking this course, you will learn how to read your own Numerology chart and understand the vibration of each number. You will also learn how to unveil your soul purpose and the lessons that make up your life journey, including the very gift you are meant to be and to give to the world.
The answers will awaken you to a life with purpose and clarity like never before. And it lies right before you in the form of this Self-Study course.
Learn more about Tom Eckert
---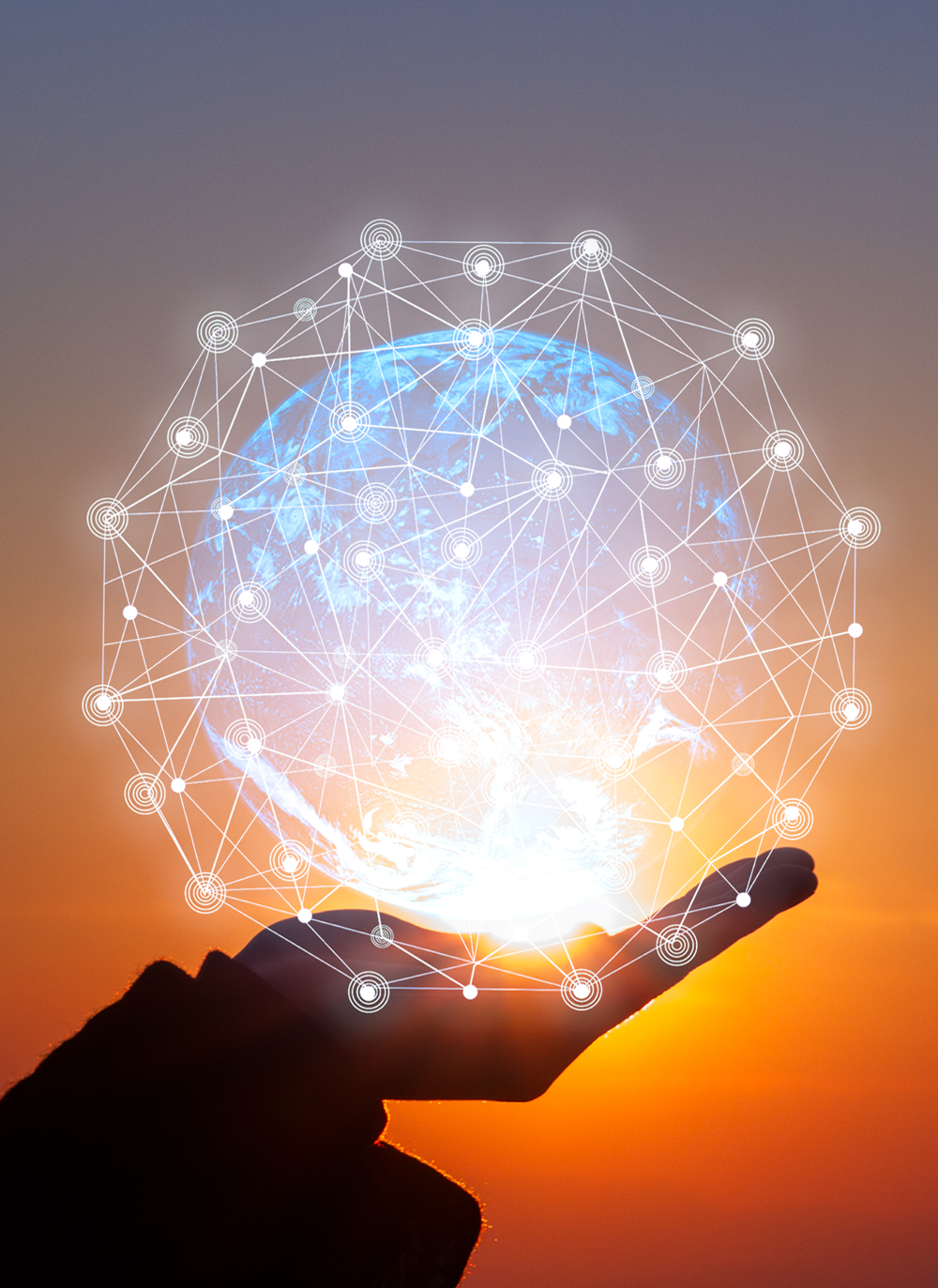 ---
You will gain access to a foundation education in numerology that will bring about deep self-acceptance and understanding.

You will understand the deeper meaning and purpose of your life's journey and make powerful and well-informed decisions.

You will learn how to weave the numbers into a story that reveals the complete picture and puzzle of your life.

You will realize why certain challenges repeat themselves in your life and how to balance them.

You will learn how to look into your own future and prepare for it consciously and also look into your past and learn from your mistakes.

You will gain the ability to support your friends and family by providing them clarity and empowerment on their path.

You will get all future updates and newly added information within the course materials for FREE.
Here's What You'll Recieve
This one-of-a-kind self-study course will finally enable you to discover the secrets that bind numbers into your life-story. The 6-module course is designed for all levels of intuitive experience.
No previous experience required!
Creative Course Inclusions
I've made sure to make it an enjoyable and practical learning experience so that you will be able to apply what you learn using the following modalities to help you out on your journey:
---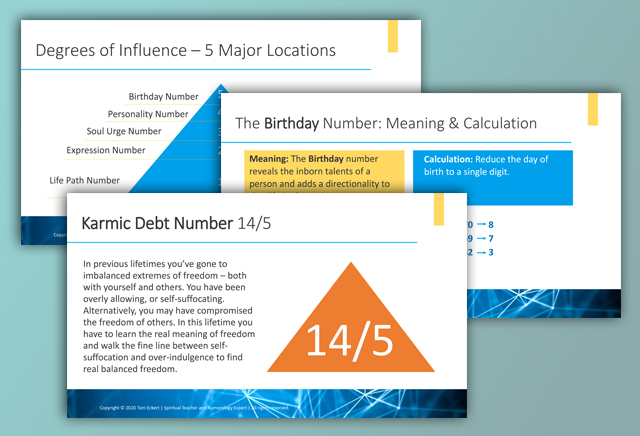 PDF summaries
53 downloadable resources in PDF of all summarized materials. Or as 1 complete book in PDF for your convenience that will accompany you as your numerology bible.
---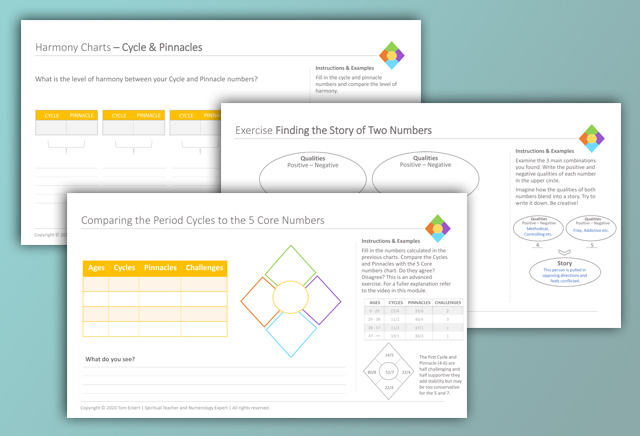 Worksheets
17 exquisite and crystal clear worksheets or as 1 Course Workbook and 1 printable numerology chart, will enable you to pratice all the study materials - one step at a time.
During this Self-Discovery Journey you will:
---
Know exactly what is your core lesson and destiny
Be clear about your strengths and major challenges
Read the map of past, present and future periods in your life
Give impressive numerology readings to your friends and family
Inspire any person you meet by explaining their purpose and blueprint to them
Discover past life Karma and learn how to solve it
"Tom is a very knowledgeable, fun, and kind teacher who has lit up the path of numerology for me in an engaging, comprehendible way. I've been able to apply the teachings from this course in my life since the very first lesson. The wisdom Tom shares through this numerology courses is life-changing, powerful and extremely effective in helping me understand myself and others in deep, meaningful ways. With the help of this course I've learned how to identify my personal challenges that have held me back from attaining goals in life, as well as approaches to working through them more gracefully. The results of this have been quantifiable and impressive." Danica, Canada
"Tom is a brilliant teacher with a sharp mind and a wise heart. It's so inspiring to learn from him, as his knowledge for numerology is very deep and precise - in his didactic and thoughtful way of explaining he is always straight to the point. For me, this course, was an incredible gift on my way to understand myself and the people surrounding me much better and it was full of surprises. The humorous and kind way of sharing his wisdom with so much passion and compassion is Toms outstanding talent. I highly recommend to take the chance to learn from him and his numerological and spiritual experience." Anke, Germany
"I want to thank you Tom for all that you gave me through your self-study numerology course! I found you on YouTube and really connected to the way you teach, your calmness and clarity. From the moment I started the course I realized that the foundation I've gotten previously about numerology with other teachers was really bad and incomparable to the quality you shared. That hurt. But I'm so grateful that I didn't give up and eventually found you. You really give and teach with all your heart. You don't hide information and you are very clear. Thank you for everything!" Victoria, Israel
"I started to study Numerology with Tom out of curiosity and today I am proud to say that I am a numerology practitioner myself! I love Numerology as it can be of such great assistance on one's path and I love to share Numerology Readings with other people. Tom is a great teacher and his self-study course enabled me to get to know a whole new world where numbers have characters and relations. Tom's sharp clarity, vivid & funny examples and vast understanding made every hour an experience where I learned a lot and that I enjoyed so much!I am very grateful that our paths have crossed and that Tom shared the use of this beautiful tool with me!" Marleen, Germany
"After finishing this course, I can assure everyone who is interested in this Self-Study course that it contains all the information that is necessary to gain a very good understanding and practical application of numerology. It is compact, complete and very well structured. It will not only allow you to understand your core blueprint and step into your full potential, but will also enable you to give readings to your friends and family. The moment I understood the potential of my numbers I felt seen and confirmed on a deep level. Tom's ability to bring across deep and meaningful content in a clear, lively, joyful and professional manner is unmatched for me. I'm sure you'll have lots of fun!"Daniele, France
Begin your journey with this high-quality numerology self-study course
---
I have created this course for you with a lot of thought, love, and intention. My wish is to raise humanity's consciousness and bring a world of acceptance, mutual love, respect and wisdom.
---
1 payment of 279€
or
3 payments of

95€
---
PURCHASE COURSE NOW!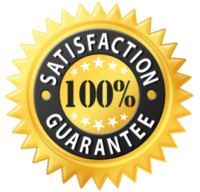 ---
Your satisfaction is 100% guaranteed! If you don't absolutely love the Self-Study Numerology course — or don't feel that it meets your needs, please submit a refund request within 7-days from the date of purchase and I'll issue you a refund - no questions asked.